No matter your industrial product needs, we have the solution! We offer more than 2,700 products from qualified producers–cultivated from years of industry experience.
Below is just a sample of the products we provide. If you see what you're looking for–or don't, please contact us. We'd be happy to help you. Keep in mind that we can create custom blends to your exact specification.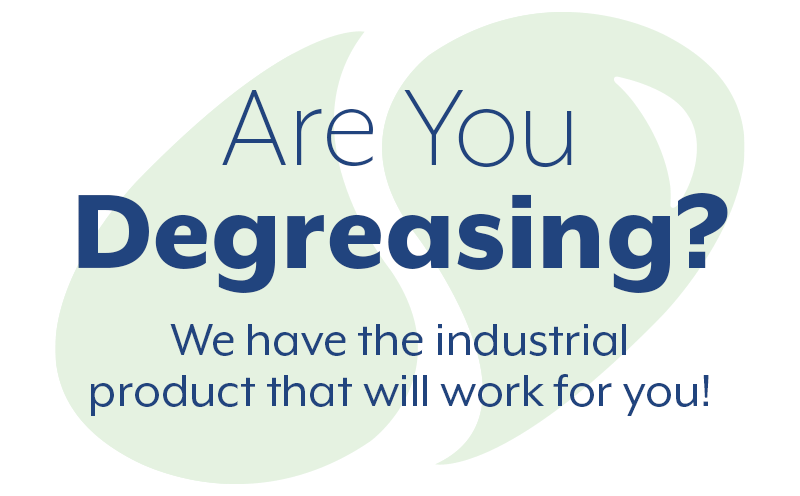 Aromatics
Aromatic 100

Aromatic 150, ND
Aromatic 200

Toluene

Xylene
Aliphatics/Mineral Spirits
Hexane
360 Solvent
467 Solvent
F-140 Solvent
Heptane
Lantern Fuel
Mineral Seal Oil
Mineral Spirits
Odorless F-140
Odorless Mineral Spirits
S-Lo/Rule 66 M/S
VMP Naphtha
Ketones
Acetone
Cyclohexanone
Diacetone Alcohol
DIBK
Isophorone
MAK
MEK
MIBK
MPK
Esters
Methyl Acetate
DB Acetate
DiBasic Ester
DPM Acetate
EB Acetate
Ester EEP
Ethyl Acetate
IBIB
Isobutyl Acetate
Isopropyl Acetate
N-Butyl Acetate
N-Propyl Acetate
PM Acetate
Tertiary Butyl Acetate
Alcohols
Benzyl Alcohol - Tech
Ester Alcohol - Texanol
Government Formula EthanoL
Isobutyl Alcoho
Isopropyl Alcohol 99%
Isopropyl Alcohol, USP
Alcohols, cont.
Methanol
n-Butyl Alcohol
n-Propyl Alcohol
Special Denatured Alcohol
Glycol Ethers
EB
DB
DE
DM
DPM
DPNB
DPNP
EP
PM
PNB
PNP
TPM
Glycols
Ethylene Glycol
Butylene Glycol
Diethylene Glycol
Dipropylene Glycol
Hexylene Glycol
Propylene Glycol - Tech
Propylene Glycol - USP
Triethylene Glycol
Amines
Monoethanolamine
Cyclohexylamine
Diethylethanolamine
Morpholine
Triethanolamine, LFG
Triethanolamine 79%
Rust Preventives
RP-704 – Water-based Rust Preventive

RP-734 – Water-based, Low Foam Rust Preventive

RP-737 – Water-based Rust Preventive, DEA Below Detectable Limits

RP-740 – Rust Preventive Based on F-140 Solvent

RP-750 – Water-displacing Multi-metal Safe Rust Preventative; Similar to RP-740 but Leaves Oily Film
Miscellaneous Chemicals
Benzoic Acid
Caustic Soda 50%
d-Limonene
Miscellaneous Chemicals, cont.
Dimethyl Carbonate
Fumed Silica K200
Glycerine 99.7% USP
Glycolic Acid 70%
N-Methyl Pyrrolidone
N-propyl Bromide
p-Chloribenzotrifluoride
Propylene Carbonate
Styrene Monomer
Tetrahydrofuran (THF)
Surfactants
SXS 40%
Cocobetaine 30%
Dodecylbenzene Sulfonic Acid (DDBSA)
Fatty Methyl Ester (soy and coconut)
Polysorbate 80
Sodium Laureth Sulfate (3mole) 60%
Sodium Laureth Sulfate 30% (2 mole) – Alkaline Preservative Free
Sodium Lauryl Sulfate 30% - Alkaline Preservative Free
Superwet 9.5
Superwet 91-6
Superwet DDBSA
Surfonic LF-17
Plasticizers
Hexamol DINCH
Di-Octyl Adipate(DOA)
Di-Octyl Terephthalate
Palatinol DPHP
TriOctyl Trimelte(TOTM)
Manufactured Products
Booth Coatings
Corrosion Inhibitors
Defoamers
Immersion Cleaners
Paint Pre-Treatment Products
Paint Strippers
Paint Thinners
PG and Glycerine Solutions for Fire Suppression Systems
Photopolymer Plate Washout Solution
Pressroom Chemicals
Process Oils
Spray Cleaning Compounds
Manufactured Products, cont.
Rust Preventatives
Water Treatment Chemicals
Chlorinated Solvents
Methylene Chloride
Perchloroethylene VP
Trichloroethylene
Heat Transfer Blends
SUPERCOOL – Inhibited Ethylene GlycoL
SUPERCHILL – Inhibited NSF Food Grade Propylene Glycol
SUPERTHERM – Inhibited Propylene Glycol
Super Geotherm – Ethanol based
Glycerin based Fire Suppression Antifreeze
Propylene Glycol based Fire Suppression Antifreeze
Printing Blends
B-5698 – One Step Water Miscible Wash
CS-1633 – Low V.O.C Meter Roller Cleaner
S-699 – 90/10 (by volume) Pr/PrAc Blend
S-853 – Blanket and Roller Wash - Oil Based Ink
S-1100 – Press Wash
S-1295 – Fast Dry Blanket Wash
S-1615 – 80/20 (by volume) Pr/PrAc Blend
S-2149 – UV Ink cleaner
S-2330 – Auto Press Roller Wash
Miscellaneous Blends
S-101 – Lacquer Thinner
#10 Thinner – Reclaimed L/T - Fast
S-170B – Clean-up solvent (Reclaimed L/T)
S-900 – Paint Prep Solvent Cleaner
S-2401 – Tar, Wax & Grease Remover
S-5370 – Non-Chlorinated, Low V.O.C Cleaner
B-2000 – Resin Cleaner
Aqueous Cleaners
EC-502 – Citrus Cleaner - Degreaser
EC-510 – Citrus Cleaner - Degreaser Concentrate
EC-520 – Economic Citrus Cleaner - Degreaser
EC-543 – Asphalt Extraction Solvent
EC-578 – Asphalt Extraction Solvent
PLC-5000 – Surfactant Based Plastic Cleaner
PLC-5001 – Organic Acid Based Plastic Cleaner
Superclean 105 – Spray Metal Cleaner
Aqueous Cleaners, cont.
Superclean 106 – Degreaser
Superclean 115 – Spray Metal Cleaner with Rust Preventive
Superclean 118 – Low Residue Spray and Wipe Cleaner
Superclean 122 – Anilox Cleaner
Superclean 127 – Spray Metal Cleaner
Superclean 130 – Heat Exchange Cleaner
Superclean 164 – Heavy-Duty Degreaser - EB-based
Superclean 180 – Fast Dry Spray and Wipe Cleaner for Hand Use
Aqueous Cleaners, cont.
Superclean 302 – Acidic Rust Remover - Descaler
Superclean 353 – Iron Phosphatizer
Superclean 918 – Economical Floor and All-purpose Cleaner
Superclean 950 – General Purpose Degreaser
Super Green – Similar to "Simple Green"
Super Green II – Similar to "Simple Green" Our Gen II
Superclean 2152 – Waterbased Ink Remover
Superclean 4116 – Heavy-duty Anilox Cleaner
Aqueous Cleaners, cont.
Superclean 4142 – Non Hazardous Metal Cleaner
Superclean 4191 – Heavy-duty Spray Metal Cleaner - Brass
Superclean 4353 – MultiMetal Phosphatizer/Cleaner
Superclean 4849 – MultiMetal Cleaner
Superclean 4849 RP – Spray Multi-Metal Cleaner with Rust Preventative
Superclean 4865 – Similar to "CLR"
Superclean 4913 – Flexo Ink Cleaner
Fiberglass-Rovings
Direct Rovings for Filament Winding
Direct Rovings for LFT
Direct Rovings for Pultrusion
Gun Rovings
SMC Rovings
Fiberglass- Chopped Strands
BMC Chopped Strands-10 mic
BMC Chopped Strands-13 mic
Nylon Chopped Strands-10 mic
Nylon Chopped Strands-Flat Fiber
Nylon Chopped Strands-High Modulus
PBT Chopped Strands-13 mic
PC/PBT Chopped Strands
PP Chopped Strands-13 mic
Fiberglass- Roll Goods
Chopped Strand Mats- Slits
Chopped Strand Mats-1 oz,
Chopped Strand Mats-1.5 oz & 2 oz
Chopped Strand Mats-3 oz
Cloth 6 oz, regular widths
Cloth 6 oz, slits/tapes
Infusion Mat- PP core
Knits- Bi-axial LT, LTM (0º/90º)
Knits- Quadraxials
Knits- Tri-axials
Knits-Double Bias BX, BXM (+/- 45º)
Knits-Slit widths
Knits-Warp Unidirectional (0º)
Knits-Weft Unidirectional ( 90º)
Woven Roving Mat- 1815, regular widths
Woven Roving Mat-2415 & 3615, regular widths
Woven Rovings- Regular weights & widths
Woven Rovings- Slits
Woven Rovings-Large Roll
Thermoset Resins
Closed Mold
Corrosion
Fire Retardant
General Purpose
Marble/Casting
Marine
Pultrusion
Gelcoats
GP
NPG
NPG Marble
NPG Marine
VE Tooling
Thermoplastic Resins
Fire Retardant for Thermoplastics
High Temp PA
Impact Modifiers
PBT resin IV0.80
PBT resin IV1.10
PC resin
PPS resin
Gelcoats
GP
NPG
NPG Marble
NPG Marine
VE Tooling
Thermoplastic Resins
Fire Retardant for Thermoplastics
High Temp PA
Impact Modifiers
PBT resin IV0.80
PBT resin IV1.10
PC resin
PPS resin
Acetone Replacements
B-2000 Cleaner
B-2001 Cleaner
DBE (Di-Basic Ester)
Liquid Green LF
Power Flush (S-10025)
Propylene Carbonate
S-1115 Cleaner
S-280 Super Flush
S-3680 Cleaner
S-7409 RI Cleaner
S-9559 (Uni-Strip)
Super Blue LF
Miscellaneous Composites
Adhesive
Balsa
Carbon Fiber
Closed Molding Consumables
Core Kits
Filler
Foam
Glass Kits
Granite Dust
Infusion Cores
Mold Release
Putty
Silicone for Infusion Bags
Talc
Tooling Materials
If you've found a Superior product–or would like help in identifying what you need–please send us a message. We can answer all of your questions and provide Safety Data Sheets. Our team is ready to find a solution that works best for you!
Call us at (855) 700-7510
OR
Email us at info@relyonsuperior.com
OR
Use this contact form: